Augmented Reality For Creatives & Artists 🚀
Generate online sales by capturing your customers' attention with augmented reality For Art, Photography & Online Galleries
Generate online sales by capturing your customers' attention with augmented reality For Art, Photography & Online Galleries
CartMagician has all the tools you need to create amazing augmented reality from your photography, design, and artwork. Artistic professionals, photographers, and artists can create interactive replicas of their work with CartMagician.
All from your web browser. No app downloads required.
Get all the tools to view art in
AR

,
minus the effort.
Easily convert your art into augmented reality masterpieces.
Convert art in 3-easy-steps
Automate AR with 3D Templates
Time-saving batch processing
Manage, Edit, Export, Share & Sell
Add augmented reality into your online art gallery
Add augmented reality into your online art gallery
Make any art image into an augmented reality masterpiece, fully framed using CartMagician art frame templates. Ready for customers to virtually hang art on their own wall using AR as they browse your gallery to buy.
Integrate And Style To Suit your Online Gallery Website, Products And Branding
You are in charge. Create your own virtual frame styles and save as 3D templates to use over and over again with your own button style and places to show 3D visuals and AR just how you want it.
Seamless Art Experiences Across Desktop And Mobile Device
CartMagician does not require third party apps to view AR content. Whatever your browser, you can enjoy the experience straight out of the web whether on Apple iOS or Android.
Personalise The Art Viewing Experience
Allow customers to select and view products as they shop in all the frame styles, colours and sizes. With CartMagician you can integrate directly with your existing website configurator to enhance with 3D and AR visuals or use one of our configurator tools to copy onto your website.
The Augmented Reality Platform For Artists
CartMagician enables artists, photographers, online galleries and designers to replicate their work in augmented reality for their online gallery or website. CartMagician opens the doors to a whole new world of possibilities. In a matter of seconds, artists can show visitors exactly how the art will look in their own space by allowing the customer to virtually 'hang' your work in their home, studio or office, at scale and in true colour to provide a life-like representation, enhancing the artwork and opportunities to showcase works of art for sale.
Our solution consists of:
2D to AR conversion tool

- where you can upload an image of your own works of art, photography and designs and convert into a digital replica in 3D and AR.

3D Art Frame Templates and Creator

- Ready to use 3D templates to automatically frame your artworks and output to 1:1 scale and size.

the export tools

- automatically generated web exports where you can simply copy and paste your art creations to your website or online gallery ready to view.

the platform and AR hosting

- where you can store and host all of your files securely - edit, update, export and share your web AR and 3D files

purpose-built integrations for Shopify and WooCommerce

- where you can connect CartMagician and convert your 2D images into AR using CartMagician 3D templates from your product pages. To learn more visit CartMagician AR on Shopify or CartMagician WooConnect plugin.
Featured photographers & artists:
Denys Nevozhai, Casey Horner, Pierre-chatel Innocenti, Simon Lee - @unsplash
How To Transform Artworks into
AR

and Generate Art Gallery Sales
How To Transform Artworks into
AR

and Generate Art Gallery Sales

Integrate And Style To Suit Your Online Gallery Website And Branding
Upload Art Image
Simply upload the image you want to use. Or try batch processing to automate hundreds of images into products. Go to market faster with minimal effort to create. Leave that to CartMagician!
Select a 3D Template
Art frames makes a perfect 3D template. One frame template style can be used to showcase every piece of art sold on your store. CartMagician magically resizes art frame templates to the correct image proportions to match the physical artworks for sale.
Select 'Start'
This is where the magic happens. The results take seconds and you have the perfect way to showcase your artworks in your online gallery. No apps needed to view, seamless web browser 3D and Web AR viewing.
Share & Export
One click sharing, pre-generated web exports, plugin-add-ons to connect your website all provide the perfect set of art tools you need to add onto your website, share with customers or add a magical touch to your print and digital marketing.
With one link, you'll reach more customers and showcase art faster
By showcasing your beautiful art and design products in life-like augmented reality for web, you'll see higher cart completions, repeat business and most importantly - happy customers.
CartMagician helps you reach more customers by automatically generating WebAR export options you simply copy and paste to your site, add to a product page, marketing campaign or share a hosted link with a customer via email. No customer apps to download.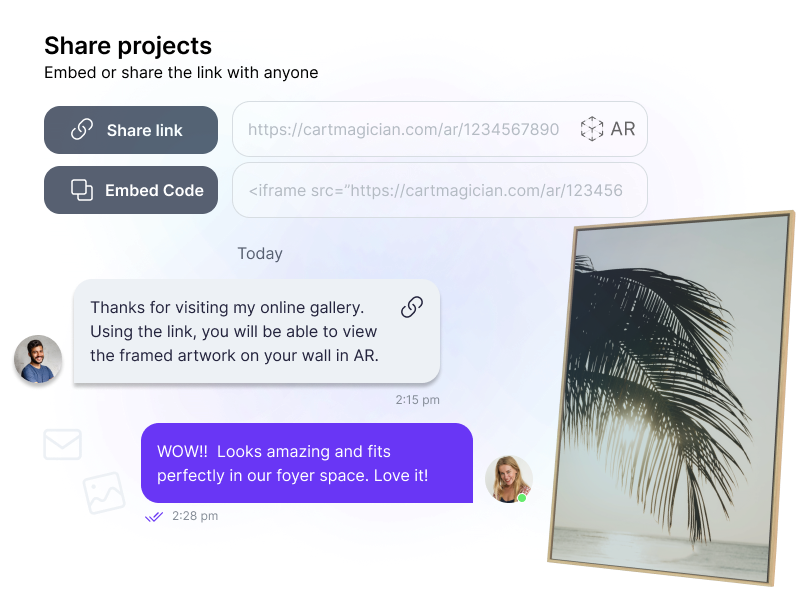 CartMagician has been an amazing tool for us..... CartMagician 2D to AR automation is pure magic!
Show off your best work online and in buyers homes
CartMagician offers you beautiful 3D templates that allow you to display your work in a way that reflects your style and creativity. You can easily recreate works of art using our free range of art frames and canvas, wallpaper or other design product templates to create a life-like representation of the physical item and view it in web-friendly augmented reality on your site.
Creating augmented reality from 2D images has never been easier.
In just a three simple steps you can transform a single image file (or entire collection of work) into perfectly optimised, WebAR files and add them to your online gallery website or e-commerce store.
To begin, upload your image file in either JPEG or PNG format, choose a 3D template, and click 'Start' to convert it into AR, ready for you to add to your site. It's that easy!
All your augmented reality project files in one place .
The project gallery has all your AR projects and uploaded 2D image and 3D media files securely categorized to make access easier: Looking for a file to export again? Want to change the product image or template used? No problem! Your past work is saved for updating later. It's also useful to track progress or re-share content to new customers.
TRY FOR YOURSELF
Creating augmented reality from your art images has never been easier.
Creating augmented reality from your art images has never been easier.
Upload an image of your artwork, and CartMagician will magically transform it into a fully framed masterpiece using one of our 3D frame templates, ready to view in 3D and so you can view on your wall using WebAR.
Upload an image and CartMagician will handle the rest
Trusted by our vibrant global community
Trusted by our vibrant global community
Leading artists, designers, and photographers use CartMagician to showcase their works-of-art online with augemted reality visualizations.
---
Interested in transforming your art sales and creative marketplace?
Interested in transforming your art sales and creative marketplace?
Select month-to-month plan with no-lock-ins or switch and save with an yearly subscription.
All from your browser. No customer app downloads.